UPDATE 30th August:
Matthew Nickerson has posted a revised / improved version of his graphic which you can see in the tweet below: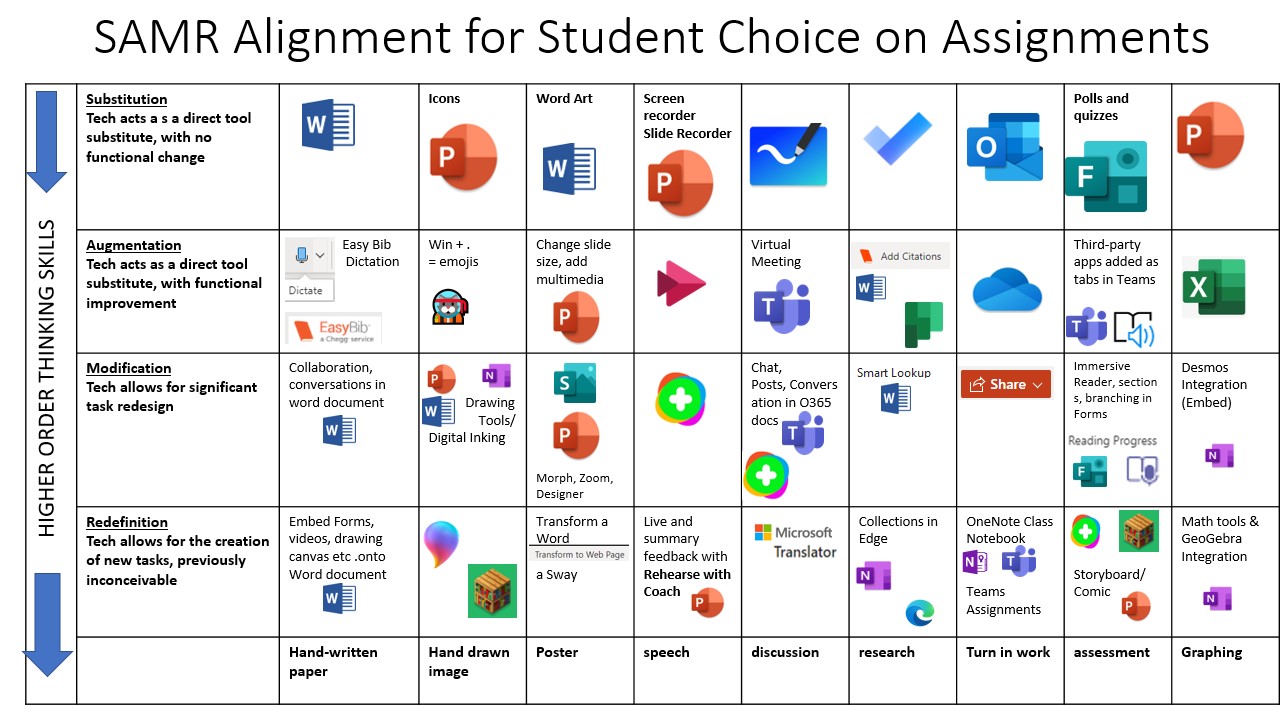 I'm a huge fan of the SAMR model and have blogged about it numerous times on my blog previously so I was delighted when my Twitter PLN (Professional Learning Network) tagged me in on this awesome tweet from Matthew Nickerson (I suggest you follow him!) showing a matrix he had created focusing on how students could submit assignments using only tools in the Office365 suite:
If this spins your wheels, then definitely check out my previous blog post about creating a digital classroom with O365 from a history teacher's perspective which also mentions SAMR and includes my favourite SAMR poster of:
Last month I did a presentation to educators and leadership in South East Sulawesi Region in Indonesia who were launching a new O365 initiative and I shared the SAMR model with them too at the time – they appreciated the simplicity of the taxonomy but also the breadth and freedom to integrate tools in creative ways to drive better learning outcomes. Ultimately, I see SAMR as being a framework that you can hang your own thinking and planning on in a structured way to drive deeper student engagement with technology, but it is not intended to be a prescriptive guide.
It was back in 2014 that I first came across SAMR and could see it's power in math lessons where teachers were flipping the classroom with tools like OneNote and Surface Pro devices with digital inking. Check out this blog post I wrote at the time featuring Ben Hilliam (who is now the global head of Math for Education Perfect) where I included my other favourite SAMR poster:
The Role of Twitter
A final word about Twitter – I mentioned at the start of this post that I came across this great teaching aid via my Twitter Professional Learning Network. I'm not overstating it to say that every week there are multiple tweets that catch my eye from dedicated, creative professional teachers that are freely sharing their knowledge on Twitter to assist and inspire their colleagues.
I am not a fan of social media – I have no personal social media accounts myself, so I found it strange that in May 2014 I was training teachers at the school I was working at how to use Twitter to build their own Professional Learning Network (PLN). You can read about that experience and my rationale for it here.
Fast forward from 2014 when I wrote that blog post to 2021, and I used Twitter daily for learning about and keeping abreast of education developments and EduTech. If you have not built your own PLN I encourage you to do so, and I shared tips on how to do this in the blog post above.